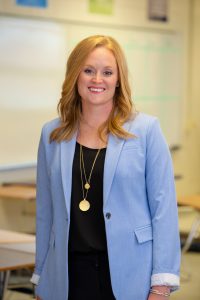 What's your first and last name?
What do you teach / what is your 'title' at school?
How are you involved in education?
I teach AP Language and AP Literature at Putnam City West High School. I am also the English Department chair and serve as a new teacher mentor, senior class sponsor, and on the schools guiding coalition and title I committee.
What does your ideal school or classroom look like?
My ideal school would be one that implemented project based learning across content areas. Instead of students sitting in 50 minute departmentalized classes, they would work with a team of teachers to understand and come up with solutions for real world problems.
If you were to lead a session at Edcamp, what would it be about?
Design Thinking in action – Design Thinking is a different approach to PBL.
Are you on Twitter?
---
If you are attending EdCampOKC, we'd love to feature your information here too! Please submit this contribution form, including a small photo we can use in your post.