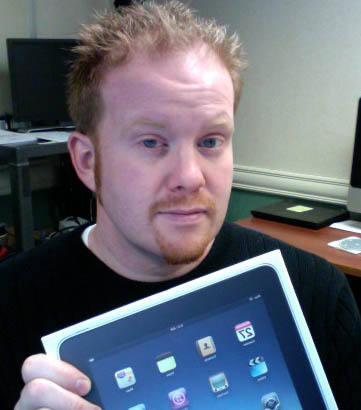 What's your first and last name?
What do you teach / what is your 'title' at school?
phd student/learner/obsessive edcamper
How are you involved in education?
i'm working on a phd in educational technology…i can't wait to teach undergraduate and graduate students full-time. i've taught an undergraduate course for five semesters and have found my calling…i love the classroom and learning with students!i'm excited about #edcampokc…it will be my 7th! edcamp in the last two years or so 🙂

i'm looking forward to meeting and learning with you next saturday in yukon.
What does your ideal school or classroom look like?
my ideal classroom:

transparent technology so we can converse with each other and the world.

lots of books that are appreciated and well-cared-for.

one desk only-mine.

bean bags.

water fountain & healthy snacks.

a window.

it would look like what we make it–a place of support, caring, and learning.
If you were to lead a session at Edcamp, what would it be about?
you mean lead a session, again? :)i've done several on gifted ed with my friend @ktvee, one on Rocks & Sucks with my friend @amandacdykes, and one fantastic session on undergraduate education which no one came to, so i voted myself out and went next door to one of the best sessions ever.

i'm planning on leading one at #edcampokc. hope to see you in there!
Are you on Twitter?
---
If you are attending EdCampOKC, we'd love to feature your information here too! Please submit this contribution form, including a small photo we can use in your post.