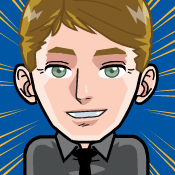 What's your first and last name?
What do you teach / what is your 'title' at school?
US Tech Teacher / Director of Academic Technology
How are you involved in education?
I teach a variety of tech courses to high school students. I also manage technology curriculum and assist with integration from PS-12. In addition, I lead a team of educators in exploring ways to evolve our school from a traditional private education to a modern learning environment that best suits our current and future students (called Evolution 21, or E21 for short).
What does your ideal school or classroom look like?
It is innovative, student-driven, teacher-guided, transparent, and collaborative. Students are provided opportunity to express themselves creatively and work on projects that are meaningful to them. Character values are promoted and practiced; who our students become as people is more important than what they know.
If you were to lead a session at Edcamp, what would it be about?
"Either ""Google Apps for Education or MS Office?"" or ""Student News Network: Live and Prepared Online Broadcasting""
Do you have a website or blog?
Are you on Twitter?
---
If you are attending EdCampOKC, we'd love to feature your information here too! Please submit this contribution form, including a small photo we can use in your post.