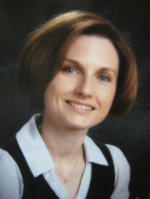 What's your first and last name?
What do you teach / what is your 'title' at school?
How are you involved in education?
I teach 3-5th grade speech/language with an emphasis on language and literacy. I am involved in school committees focused on reading and writing. I enjoy collaborating with teachers to develop ideas and locate resources that will help students read and understand.
What does your ideal school or classroom look like?
My ideal classroom has a well organized and diverse library. Space for students to learn from and about each other would be a priority. There would be no test prep items in my ideal classroom. Equal time and resources would be spent on struggling students and gifted students. There would be an absence of terms such as "lazy" and "unmotivated." Finally, my ideal school would have a faculty that is pumped and enthused about attending a free Saturday "unconference!"
If you were to lead a session at Edcamp, what would it be about?
It would be fun to facilitate a conversation on recent multicultural trade books for teaching a diverse population at the elementary level
Do you have a website or blog?
Are you on Twitter?
---
If you are attending EdCampOKC, we'd love to feature your information here too! Please submit this contribution form, including a small photo we can use in your post.