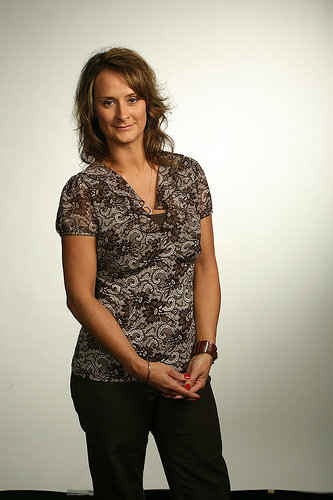 What's your first and last name?
What do you teach / what is your 'title' at school?
Instructional Technology Facilitator/Federal Programs Director/Broadcast Journalism Teacher
How are you involved in education?
I have been blessed to work in public education for 21 years . . . I started out as an administrative assistant, worked for a Special Education Coop as a Medicaid Coordinator, served as the Director of a 21st Century Community Learning Centers grant for a five school consortium, taught MS/HS broadcast journalism, and currently serve as an Instructional Technology Facilitator/Tech Director and Federal Programs Director for Howe Public Schools – a small, rural school in Southeastern Oklahoma. So needless to say, I have a unique perspective on many aspects of the public education system. I am also proud to say I am married to a Superintendent (it's a 24/7 love of all things EDU)! I lead the professional development efforts for my school and enjoy sharing new learning strategies with colleagues and others in my PLN. I am an Oklahoma A+ Schools' Fellow which also allows me to work with other amazing educators across the state of Oklahoma, Arkansas, and Louisiana, and I serve as a FableVision Teacher Ambassador!  I am also very honored to be an Executive Board Member for the Oklahoma Technology Association.  Be sure to save the date for the 2013 OTA Encyclo-Media Conference, Oct. 1-2, 2013!
What does your ideal school or classroom look like?
Student-centered, hands-on, ongoing opportunities for S.T.E.A.M. focused projects, technology-rich, differentiated and enriched assessment, learning styles are valued, students are not bound by class periods, seat-time, and grade-levels! Global collaboration is part of everyday . . . students and teachers are willing to share and show what they know with the world . . . authentic audiences for student work. Blended learning environments to include both bricks/mortar and virtual learning opportunities.
If you were to lead a session at Edcamp, what would it be about?
Project Based Learning; Global Collaboration; 1:1 learning environments; iPads in the classroom, Edmodo, Tech Int in small, rural schools
Do you have a website or blog?
Are you on Twitter?
---
If you are attending EdCampOKC, we'd love to feature your information here too! Please submit this contribution form, including a small photo we can use in your post.