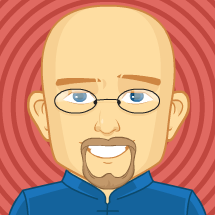 What's your first and last name?
What do you teach / what is your 'title' at school?
Director of Instructional Programs
How are you involved in education?
Having taught in every grade from Kindergarten to 12 and subjects as diverse as music, literature, history, and competitive academics, I transitioned a few years ago to leading technology. More recently, I have moved into a position that better combines the areas of curriculum, professional development, and educational technology. This helps to bring better focus to technology and curricular initiatives and to align with ideas like TPAC and the SAMR model.
What does your ideal school or classroom look like?
My ideal classroom would be one where everyone can learn as she or he is comfortable. It would be based around principles of individual sovereignty and human dignity. While technology would be an important component, traditional and even ancient methods, tools, and resources would still be useful and important.
If you were to lead a session at Edcamp, what would it be about?
Not sure. There are a number of areas I could contribute, but I'm not looking to lead necessarily. Some areas I can address are educational philosophies, technology concerns, strategic planning, and network security.
---
If you are attending EdCampOKC, we'd love to feature your information here too! Please submit this contribution form, including a small photo we can use in your post.