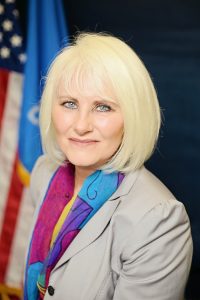 What's your first and last name?
What do you teach / what is your 'title' at school?
Director of World Languages Other Than English at the Oklahoma State Department of Education
How are you involved in education?
A former classroom K-12 world language teacher in urban, rural and suburban districts in Oklahoma.
Former Foreign Language Education Director for the College of Education at Oklahoma State University.
Currently Director of World Languages Other Then English for the State.
What does your ideal school or classroom look like?
Lots of communication in the target language by students guided by their teacher to collaborate on projects and tasks using real target language to accomplish a goal. These collaborations may include virtual exchanges with classes outside the U.S. focusing on cross-curricular projects.
If you were to lead a session at Edcamp, what would it be about?
Why every child should be learning a world language, and why we should be supporting world language instruction for our students.
The Goal Is Proficiency: Using comprehensible input instructional methods
Bringing an Effective World Language Program to Your School
How to Assess Language Proficiency
The Seal of Biliteracy
---
If you are attending EdCampOKC, we'd love to feature your information here too! Please submit this contribution form, including a small photo we can use in your post.