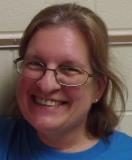 What's your first and last name?
What do you teach / what is your 'title' at school?
How are you involved in education?
Librarian and tech teacher for grades K-5; Accelerated Reading and programming coordinator for school reading events; Common Core–now OAS–district team member; member of Oklahoma Library Association, Oklahoma School Librarians, Professional Oklahoma Educators, OSU Writers' Project, and Phi Kappa Phi
What does your ideal school or classroom look like?
Lots of varied reading materials of all kinds–print and digital–with computer stations, smart board, devices, study stations, individual reading "pockets," and a welcoming, inviting "come on in" atmosphere.
If you were to lead a session at Edcamp, what would it be about?
What tweaks my interests right now are topics/strategies to bring students and mobile technology together in a project-based learning format. They know how to do games and social stuff, but the deeper reasoning and analytics for elementary level students? I need input.
Do you have a website or blog?
Are you on Twitter?
---
If you are attending EdCampOKC, we'd love to feature your information here too! Please submit this contribution form, including a small photo we can use in your post.