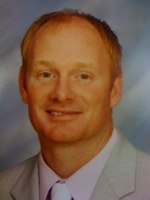 What's your first and last name?
What do you teach / what is your 'title' at school?
How are you involved in education?
I have been involved in education for 15 years. I was a National Board teacher and taught for 8 years. For the last 7 years, I have been a principal who works closely with teachers to shift their focus from teaching to a focus on learning.
What does your ideal school or classroom look like?
My vision for a school is one in which the students own the learning. Students work harder than the teachers. Students are highly engaged in relevant and authentic learning. Teachers teach the student, not the lesson. Teachers have the autonomy to go beyond their classroom walls and connect with students all over the world. Students are provided the opportunity to go beyond the expertise of what one teacher knows and is able to do. This is a short video I created that articulates my vision:
If you were to lead a session at Edcamp, what would it be about?
If I were to lead a session, I would probably lead a session on STEM education. I would provide strategies and projects that allow students to explore and create solutions to engineering challenges that have real world applications.
Do you have a website or blog?
Are you on Twitter?
---
If you are attending EdCampOKC, we'd love to feature your information here too! Please submit this contribution form, including a small photo we can use in your post.