This is our archived schedule from 2014.
General Schedule
LiveStream: http://bit.ly/EdCampOKC14
Friday, February 14, 2014
5:30 pm Monthly Oklahoma Education Tweetup (Kamp's 1910 at 10 NE 10th St)
Saturday, February 15, 2014
Location: U.S. Grant High School, 5016 S Pennsylvania Ave, Oklahoma City, OK 73119 (Google Maps link)
Saturday schedule Grid (Google Spreadsheet)

8:00-8:30 Registration
8:30-9:30 Networking and Session Planning
9:30-9:50 Whole Group Kickoff
10:00-10:50 Session 1
11:00-11:50 Session 2
12:00-1:20 Lunch (on your own – restaurant suggestions)
1:30-2:15 App Smackdown
2:30-3:20 Session 3
3:30-4:20 Session 4
4:30 – 5:00 Prize Drawings
5:30-8:30 After Party: Location S&B Burgers – 7745 South Walker  Oklahoma City, OK  73139
Session Schedule
We will build the actual session schedule the morning of our conference from 8:30 – 9:30 am, and update our Google Spreadsheet schedule. It will be linked here.
To see an example of what we'll build (and what we're modeling our EdCamp after) see the schedule from EdCampOKC 2013 or from EdCampPhilly 2012. (There are two worksheets, make your selection with links at the bottom of the Google Spreadsheet.)
Map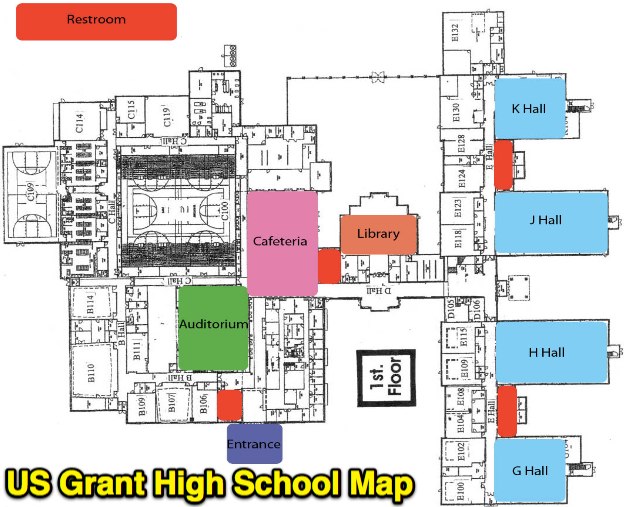 Session Notes
Please add links and any notes from EdCampOKC sessions to this shared, publicly editable Google Doc.