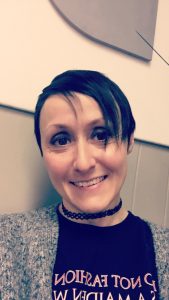 What's your first and last name?
What do you teach / what is your 'title' at school?
ELA teacher/department chair
How are you involved in education?
Currently, I teach senior English at an alternative school in OKC. I'm also finishing a master's in curriculum. I live education. It's my career, hobby, and focus.
What does your ideal school or classroom look like?
There is no "ideal" classroom. I work with the students I have and meet them where they are. Humans are imperfect, messy beings—at all stages of life. I simply want students to see growth and improvement while they're with me. I want to give them a place to reclaim their unique voices and to understand what power they hold in their hands.
If you were to lead a session at Edcamp, what would it be about?
Anything to do with disrupting and transforming education
Do you have a website or blog?
Are you on Twitter?
---
If you are attending EdCampOKC, we'd love to feature your information here too! Please submit this contribution form, including a small photo we can use in your post.