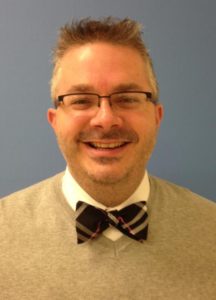 What's your first and last name?
What do you teach / what is your 'title' at school?
Social Studies & Business Education Curriculum Coordinator
How are you involved in education?
I serve as a district curriculum coordinator for preK-12 Social Studies and 9-12 Business Education teachers/courses. I work with teachers to support their needs in enhancing the educational experiences for our district's students.Additionally, I serve as Vice President of OK Council for the Social Studies as well as a member of each the Holocaust Education Committee of the Jewish Federation of Greater Oklahoma City and the Education Committee of the Oklahoma City National Memorial & Museum.
What does your ideal school or classroom look like?
Focused & FlexibleThe ideal classroom should be arranged and set up to give a clear focus on the skills & content learning which are appropriate for the specific course(s) being taught, yet should also allow the flexibility of quick rearrangement (if needed) to meet the needs of specific activities. My image would of this would be individual student desks or thin rectangular tables arranged in a group collaboration pod for @4 students per pod that could also be easily split up for focused individualized activities (i.e. a test) or moved out of the way entirely for whole class activities that engage students actively with one another.
If you were to lead a session at Edcamp, what would it be about?
Integration of literacy and/or technology skills across the curriculum as a way to support content based learning.
Do you have a website or blog?
Are you on Twitter?
---
If you are attending EdCampOKC, we'd love to feature your information here too! Please submit this contribution form, including a small photo we can use in your post.