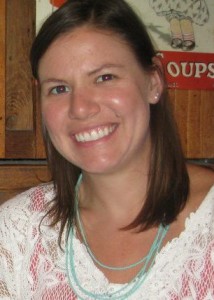 What's your first and last name?
What do you teach / what is your 'title' at school?
How are you involved in education?
I teach freshman Computer Apps I & II classes. I also coach junior high and high school volleyball and basketball.
What does your ideal school or classroom look like?
In my ideal classroom, students would learn both individually and collectively through projects and activities. All students would have access to technology for differentiated learning, and they would use different tools to create, present, and publish what they have learned. Subjects wouldn't be taught in isolation; instead, projects would incorporate several subjects at once.
If you were to lead a session at Edcamp, what would it be about?
Tools to curate online contentAlternatives to PowerPoint presentations
Do you have a website or blog?
Are you on Twitter?
---
If you are attending EdCampOKC, we'd love to feature your information here too! Please submit this contribution form, including a small photo we can use in your post.